Terror of the Black Knight is the first segment from the ninth episode of Grim & Evil.
Plot
At a medieval fair Billy is impressed with Irwin's realistic armor and wants one for himself too. Grim fulfills his wish by giving him a cursed armor. Soon when Billy wants to go to the bathroom the curse is revealed that one cannot leave the suit until he or she beats someone in a challenge.
Credits
Story by: Craig Lewis
Storyboard by: Alex Almaguer
Directed by: Juli Hasiguchi
Challenges
Trivia
Mandy's line about "choosing not to win" would be her losing quote for the fighting game (although only audible on the GBA version).
Gallery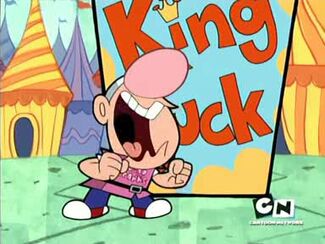 The image gallery for Terror of the Black Knight may be viewed here.