Tastes Like Chicken is the third segment of the seventh episode of Grim & Evil.
Plot
With Irwin not answering the phone, Billy's parents missing and Mandy saying she wants "Billy for dinner", Billy and Grim assume Mandy is a cannibal who ate Billy's parents and friends. Looking for proof, Billy and Grim find tiki figures and arrangements for a celebration in Mandy's backyard. Ultimately, it is revealed that they are just celebrating Billy's birthday. Still, Mandy burps out Irwin's glasses.
Credits
Story by: Gord Zajac
Storyboard by: Mike Diederich
Directed by: Brian Hogan, John McIntyre
Trivia
Billy refers to Grim's Scythe as a "Sickle", which is a synonym for the same tool.
Gallery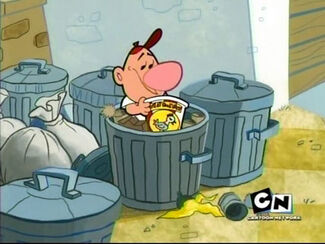 The image gallery for Tastes Like Chicken may be viewed here.