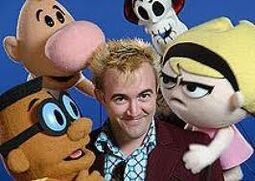 Maxwell Atoms (birth name: Adam Maxwell Burton) is an American animator, writer and voice actor. He is the creator of Cartoon Network's animated television series The Grim Adventures of Billy and Mandy, Evil Con Carne, and has recently developed a Billy & Mandy spin-off Halloween special called Underfist.
He also worked at Warner Bros. Animation on Bunnicula.
History
Before he started working on his own series, Atoms was an intern at Film Roman, a freelance artist at Warner Bros., had a brief stint at Wild Brain and had also worked on Twisted Tales of Felix the Cat. Atoms got a job at Hanna-Barbera and as a writer and storyboard artist on Cow and Chicken and I Am Weasel. He also performs the voice of Jeff and Piff on The Grim Adventures of Billy and Mandy, and voiced Cod Commando on Evil Con Carne. He also voiced several additional characters in the TV-movie Billy & Mandy's Big Boogey Adventure. Atoms has been recognized several times for innovation and creativity in his work.
According to Atoms, his inspirations in cartooning started in school with surrealism, influenced by monster movies and old Saturday morning cartoons. The fun of animation, Atoms has related to interviewers, is that anything is possible in animation: the only limit is your imagination. Atoms grew up in Colorado Springs, Colorado and is an animation graduate from the University of The Arts, Philadelphia. He got his first job at Film Roman at 22 years of age.
Atoms is good friends with fellow animators Tom "Mr." Warburton, creator of Codename: Kids Next Door and C. H. Greenblatt, the creator of Chowder. Maxwell and Tom have made multiple references to each other's shows and have made a cross-over TV special, The Grim Adventures of the Kids Next Door. Maxwell Atoms has also done some free-lance storyboards on Chowder, as well as providing voicework in the episode The Puckerberry Overlords.
Recently, Atoms confirmed in his blog that his contract with Cartoon Network has expired but he is willing to stay with the network if there is the opportunity for the contract to be renewed. He has stated that he has many new ideas for animated series and has decided that he would really like to get into prime-time animation.
He was previously working on an adult-oriented series called Dead Meat. But had decided to work on Bunnicula instead, leaving Dead Meat on hold. However, with Bunnicula concluded, it's possible that Atoms will return working on Dead Meat.
Trivia
On the Season 1 DVD menu disc 1, a backwards message by Maxwell Atoms saying "This message is played backwards for no particular reason. Play the DVD" can be heard.[1]
On a February 2021 post on his Tumblr blog, he disclosed his Asperger's diagnosis.
External Links
References