Hog Wild is the 18th episode from season 4 of The Grim Adventures of Billy & Mandy.
Plot
As Billy is tired of all the rules in his house, he cannot resist the urge to try his father's new motorcycle. The motorcycle breaks down as soon as Billy touches it, and Billy asks Grim to repair it. Grim's scythe turns the motorcycle into a wild, supernatural vehicle, which transforms Billy's parents and everyone around it into undead creatures and motorized monsters named Kustom Kulture Creatures. Mandy makes Billy tell the truth about breaking the motorcycle in the first place, at which point his parents and everyone else return to normal. Billy was, of course, grounded at the end.
Credits
Story by: Brett Varon
Storyboard by: Brett Varon
Art direction: Rae McCarson
Directed by: Shaun Cashman, Eddy Houchins
Characters
Trivia
This episode is a reference to Rob Zombie's artwork. Grim even calls the transformed people into Kustom Kulture Creatures.
The monsters in this episode, such as Billy's dad when he is transformed, parody Rat Fink.
The background of Gerome's Place Is similar to Bikini Bottom from SpongeBob SquarePants.
Gallery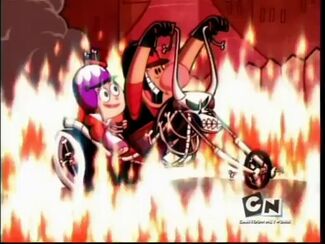 The image gallery for Hog Wild may be viewed here.
Video