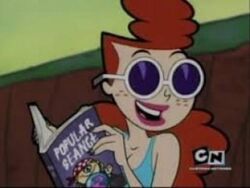 Herfeffine Heferfefer is the most beautiful girl at Toadblatt's School of Sorcery, shown only in "One Crazy Summoner". She was voiced in the episode by Tara Strong.
Appearance
She has red hair and freckles and wears a blue bathing suit and later a purple sweater. After Dorko takes her out, she was never seen again.
Trivia
Nigel Planter has a crush on her. Her name is a pun off of Hermione Granger, one of Harry's friends.