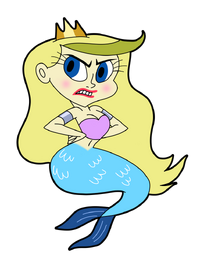 Hariel is the mermaid daughter of King Triceps and the sister of Uvula. is voiced by Precious Nicole I Areglo
Personality
Hariel gets very angry when her father keeps killing all boys she likes and hanging their heads on his wall.
Appearance
Hariel has long blonde hair, wears a crown and pale purple top and she has a bright blue tail. Her arch-nemesis is Uvula the sea hag.
History
Hariel falls in love with Billy and rescues him from being cooked. Billy calls her a fish lady. If Hariel gets married first then she will become queen of the sea. She is the swimnastics champion. In the end, she and Uvula both marry Billy.
Trivia
Hariel once called Billy an ape boy. This is possibly what all mermaids call humans.
Hariel is a parody of Ariel from Disney's adaption of The Little Mermaid.