Grim vs. Mom is the first segment of the seventh episode of Grim & Evil.
Plot
Gladys returns home after her vacation at her sister-in-law's. Seeing that Grim is still at her house, she deems that she must do something to remove him from her house to protect Billy. Her actions lead to an unnecessary confrontation with him, before Billy and Mandy walk in on her antics.
Credits
Story by: Gord Zajac
Storyboard by: Alex Almaguer
Directed by: Brian Hogan
Trivia
This is the first episode which a character actually appears on the title card.
Gladys doesn't know that Grim would love to leave the house, but can't because of his deal with the kids.
Errors
Grim asks Mandy to pass the salt, but she gave pepper to him instead.
Gallery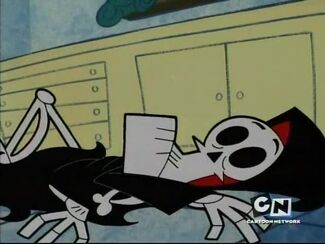 The image gallery for Grim vs. Mom may be viewed here.