Grim or Gregory? is the first segment of the eighth episode of Grim & Evil.
Plot
It's Halloween and Billy, Grim, and Mandy go trick-or-treating. While Billy and Mandy are at a house, Grim mistakes a boy's mother for Atrocia, the host of the all-night Halloween Marathon on TV. Gregory is mistaken to be Grim by Billy, and Grim is mistaken as Gregory by Gregory's mother. In the end, everything is back to normal.
Credits
Story by: Gord Zajac
Storyboard by: Shellie Kvilvang
Directed by: Brian Hogan
Trivia
Billy states that he got a rock during trick-or-treating, a reference to the Peanuts Halloween special, "It's the Great Pumpkin, Charlie Brown".
Grim says "Bah, humbug!" at the end of the episode, which is Ebenezel Scrooge's catchphrase in "A Christmas Carol".
Gregory might have been named after Grim's voice actor, Greg Eagles.
This is the only Halloween themed episode where Irwin doesn't appear. It is also the only one where Mandy doesn't use Grim's disembodied head to complement her costume in any way.
Transcript
Gallery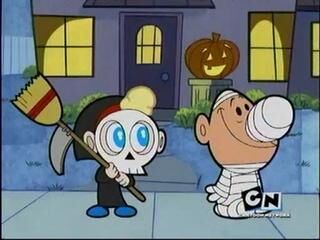 The image gallery for Grim or Gregory? may be viewed here.