General Reginald Peter Skarr is one of the main characters in Evil Con Carne. He is Billy's neighbor, and a retired villain. In Underfist: Halloween Bash, he serves as the tritagonist.
History
Skarr used to work for Hector Con Carne, but left after the organization went bankrupt and Hector was forced to sell their island headquarters and their army to an entertainment company, who didn't want anyone else to take over the world. He then retired and moved to Endsville, where his house happened to be next door to Billy and his family.
Appearance
He has a blind left eye with a jagged scar under it. He wore a blue suit and oddly shaped hat when working for Hector.
He is bald (which is sometimes used as a gag) and has a large, downward pointed nose.
In Underfist, he has a large grey moustache and goatee and wears a bright blue uniform that includes a beret.
Personality
When Skarr worked for Hector Con Carne, he sometimes tried to overthrow Hector and take over his organization to take over the world himself. Even though Skarr retired, he is an anti-social megalomaniac obsessed with power who is often tempted to return to his evil ways, but he tries to stop himself from becoming a villain again by gardening; he hates children because they annoy him and frequently ruin his garden, and he is scared of Mandy. Plus, he wants Grim's supernatural scythe, which he has stolen a couple of times.
Appearances
Movies
Video Games
Gallery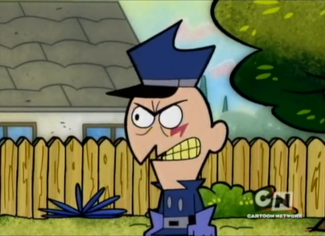 The image gallery for General Skarr may be viewed here.
Trivia