Billy's house is the home of Billy and his family. Grim and Mandy often visit as well. It is a white, two-story detached house with an annex and garage. It also has a spacious yard with a unique tree in front.
History
While it's unknown when the house was built, Harold revealed that he grew up there. It is possible that the house has belonged to the family for generations.
The house is the focal point of many episodes and appears more frequently than Mandy's house, which it is next door to. The house sees many visitors, both supernatural and mundane.
In The Incredible Shrinking Mandy, it is revealed that the house oddly stores several precious artifacts including Ark of the Covenant, Mona Lisa Picture as well as treasures.
Layout
Places of interest in Billy's house.
Billy's bedroom. Billy's room and where Mr. Snuggles is kept. Grim occasionally sleeps here. Billy and Mandy sometimes share this room.
The living room. Perhaps the most iconic location in the series. The main characters spend a lot of their free time here. Milkshakes can often be found on the couch.
The kitchen. A roomy kitchen with modern appliances and both a table and breakfast nook. A lot of things is cooking in here.
The basement. Where Grim keeps his trunk and works on his projects. Jeff is also fond of this room, as is the occasional monster.
The yard. The yard is perfect for playing and gardening. It also has a breathtaking view of Endsville nuclear power plant.
The backyard. Appeared only in the episode Little Rock of Horrors. It has a billboard with a smirking cow and the word "Special" on it, presumably a Grade A milk ad.
In other media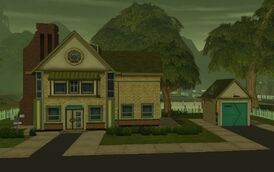 Billy's house is featured in the game FusionFall, redesigned to fit with the game's graphics.
In this game, there are no big changes to Billy's house except for the position of the fence.
Gallery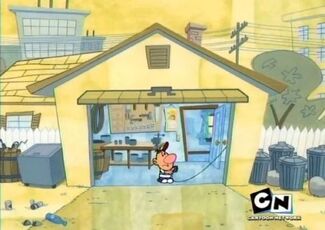 The image gallery for Billy's House may be viewed here.